A fair few of you gave the Festive Goodie Boxes a bash last week. Thank you so much for jumping outside your comfort zones and getting stuck in. Some fabulous works of art!
The Winner this week to be chosen by Random.Org is...
Random Integer Generator
Here are your random numbers:

5 
Timestamp: 2009-11-12 20:09:46 UTC

And our Top 3 Winners are:
If you'd email me using the side bar I will see that the prize is arranged and also your top winner blinkies forwarded onto you!
Before we move onto our challenge this week, I'd like to take a moment to say a HUGE thank you to Penni
Penni is leaving the team and the Stampin' girlies and myself would like to wish her well for the future!

Take care hun xx

On to this weeks challenge!!!

This week we would like to see some BIG Celebration Cards or Projects! - so those big land mark birthdays - 1st, 18th, 21st, 30th etc or those big Wedding Anniversaries - Ruby, Gold, Silver etc - you could even count a wedding or a christening! The choice is yours!

I'd like to let you in on a little secret! Donna - one of the original founders of Stampin' for the Weekend who left a couple of weeks ago celebrates a BIG birthday on Sunday! Wonder if you can guess what age she will be (Wont be very hard if you look at my card haha - Sorry Donna).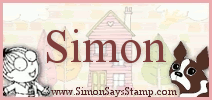 Our Guest Designers this week are the fabulous
I think that is all from us for now, so all that is left to say is...
The Stampin' for the Weekend Team
Please use Mr Linky to link to your PROJECT and NOT your BLOG... To do this, when on your own blog, click on the title to your project for this challenge. In the URL bar at the top of the page you should find your blogs unique page address for that project.. It will look like your own blog address, followed by the date and the name of your project. Copy that and then paste it into the URL bar on the Mr Linky, under your chosen name!
If Mr Linky decides to go for a walk when you need him, please leave a comment with a link to your challenge piece.
Please only use the comment box if Mr Linky is unavailable
.