Welcome to another challenge at Stampin' for the Weekend. We have a sketch for you this week, which should be a little easier for you all, as I saw some of you mention you were either put off by the colours or you thought they wouldn't work, however, those of you who did make a card - WOW - the different shades and images and challenge combinations you all chose were brilliant!
Thank you so much for stepping out of your comfort zone and giving it ago, a lot of you were surprised at how well you'd done :D
This week Donna has given us a fabulous Sketch for us all to play with. It has lots and lots of layers so its a really nice excuse *not that we need it, ey?* to use up all the fabby papers you have in your stash.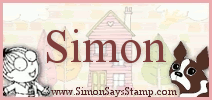 Heidi is kindly offering one of you lucky stampers a fabulous $25 spending spree in the store, to buy all your favourite items, what I wouldnt give to be able to enter this challenge for this chance!!

We have some lovely Guest Designers this week too. Lorraine was having Internet problems last week, so you may not have seen her card, but hopefully today we will get to see her second creation she has carefully put together for us! Its Lorraine's last week with us, so please visit her blog to see her fabulous creations!

Our second Guest Designer is the talented Lisa - Lisa has been making cards since 2005 and has recently taken up the challenge of Scrapbooking too. So please do visit Lisa's lovely blog and see what she has come up with this week too.
Here below, we have the talented Stampin' Teamie's Cards for you to draw inspiration from.
I wish you well with this challenge, and we all can not wait to see what you come up with!
Please use Mr Linky to link to your PROJECT and NOT your BLOG... To do this, when on your own blog, click on the title to your project for this challenge. In the URL bar at the top of the page you should find your blogs unique page address for that project.. It will look like your own blog address, followed by the date and the name of your project. Copy that and then paste it into the URL bar on the Mr Linky, under your chosen name!

Remember to upload your cards before 8pm GMT on the Thursday before the next challenge!
If for whatever reason, Mr Linkie decides to go walkies, please leave a comment with a link in the old fashioned way.